Sundays with Stella is a weekly reader-supported newsletter about finding meaning and exploring the bittersweet symphony of life through storytelling, collage art, and photography. Life takes a turn or throws us a curveball. Underneath, some kind of beauty emerges. Life also brings us love, joy, growth, challenges, and many more. May the stories, photographs, and collages serve as a gentle nudge, inviting us to awaken to our own light. Together, may we illuminate the path toward a kinder world.
A few of the wonderful feedback I've received from my dear readers:
"I love how your writing and photography speak to our shared humanity. Reading your post is a nice start to my Sunday mornings." – Jen S.

"I am lucky to have found 5 incredible newsletters that I hope to read in years to come." — Sean,

"I love your Substack. It's so raw, surreal and beautifully written. Inspiring!"— Mitch L.

"You're one of my favorites discoveries of the year!" –
The WHY behind Sundays with Stella
Growing up, I discovered those conversations at the adult table were more interesting than at the kids' table. I usually walked over to where my aunts, uncles, and grandparents gathered after meals and listened as they told stories, cajoled, and bantered together.
For years, I've written down in my journals tiny details of everyday life and pieces of conversations I've heard or picked up. Anything that sparked my curiosity or touched me deeply, I tried to record.
"When are you writing a book?" my good friend Gail always asked me before she was diagnosed with dementia. We used to exchange emails regularly and chat on the phone for an hour or two. We had long conversations on her backyard patio or in her living room during my yearly visits to Santa Barbara, California. She kept insisting I had something worth sharing with the world. She encouraged me for years until she couldn't anymore. Each interaction is precious these days.
I don't know if I'll ever write a book. It is daunting just thinking about it. Maybe, Sundays with Stella will do for now. We'll see where this goes... will you join me on this creative journey?
---
There are fours ways you can support this newsletter:
Liking, commenting and/or sharing my posts gives a tremendous boost to my newsletter. Your engagement helps get Sundays with Stella discovered by other readers and fellow creatives as well.

Buy a Collage Art Print. This is another option for those who would like to buy my artwork. Each purchase allows the newsletter to be inclusive and open to all. The proceeds also create a sustainable means to maintain the quality and value of the publication.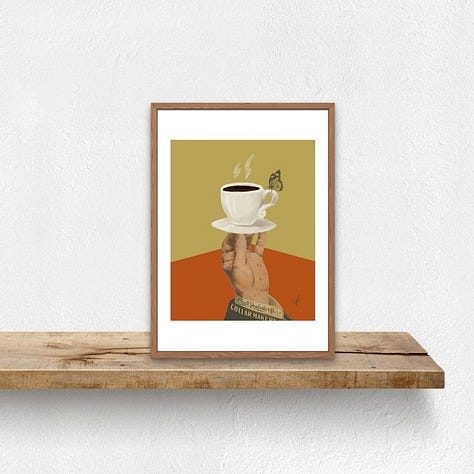 Upgrade to a paid subscription. I understand it is a huge financial commitment for some. But, I would like to offer this option to those who can. Your generosity keeps the newsletter inclusive to all. It's also a means of paying it forward so more readers can discover and be inspired by Sundays with Stella. Thank you in advance for your generous support.

Tip Jar. The last option is for those who are not ready to commit to an annual subscription but would like to lend their support by buying me a cup or two of coffee (or tea). Every monetary support counts!
---
About Stella
Stella Kalaw was born and raised in Manila, Philippines. She earned a BA in Communication Arts at De La Salle University, Manila, and a BA in Professional Photography at Brooks Institute in Santa Barbara, CA. Publications such as the New York Times, Gastronomica, and Wine Enthusiast have featured her portrait and editorial work. The Singapore International Photography Festival, The Ayala Museum, Wall Space Gallery, Kala Art Gallery, and Rayko Gallery have exhibited her fine art photographs. She is a former Photo Editor at Airbnb. She is based in San Francisco, California.

Subscribe to Sundays with Stella
People
Stella Kalaw
Photographer, artist, & storyteller based in the San Francisco Bay Area. The New York Times, Gastronomica, and Wine Enthusiast have featured her portrait and editorial work. Former photo editor at AirBnb.