Coffee Musings
The Making of a Coffee Collage Series
I used to drink coffee every day for many years until the caffeine started giving me heart palpitations and shaky hands. It was time to quit cold turkey. I was irritable and suffered from a dull headache for over a week. That was 20 years ago. 
Nowadays, coffee is considered a treat. In Paris last spring, where cafe culture is part of its DNA, I enjoyed a few cups— with a melange of pastries at Apéti, a plant-based restaurant located on the 6th arrondissement, with new photo friends, Tara Bogart and Agata Cancelliere at L'Ébouillanté, an eatery next door to La Galerie Rouge, and while journaling at Lé Dome, a local bar and cocktail joint near my brother's apartment in Batignolles. On daily jaunts, I found myself photographing empty coffee cups and outdoor cafes whether I was alone or with my siblings, GT and Malyn.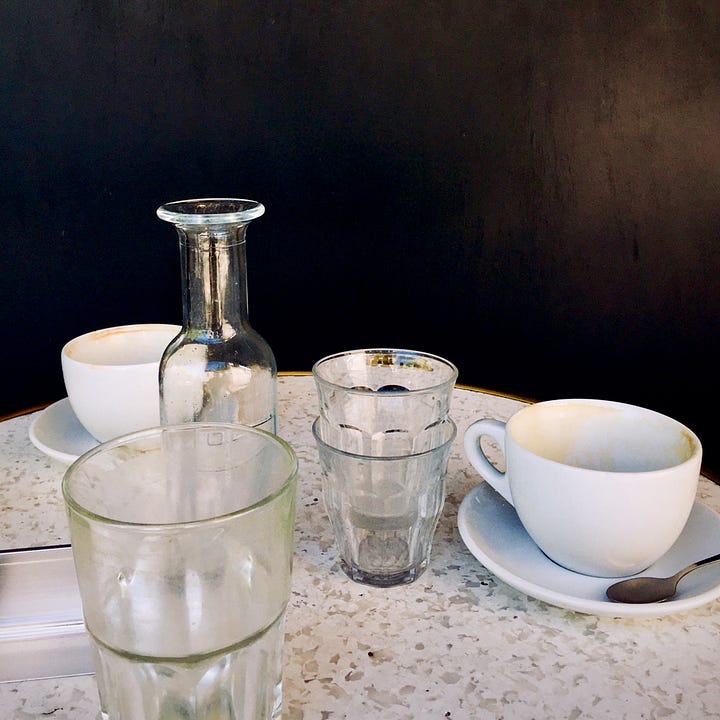 Café allongé was my coffee of choice. Cousin Anna described it as the closest thing to an Americano or drip coffee–a single shot of espresso topped with hot water. I've also learned to take it black since plant-based milk was not readily available in the city. With two small packets of sugar, I was good to go and it hit me at the right spot.
Back home during one of my collage sessions, I stumbled upon a beautiful illustration of a white cup similar to the empty coffee cups I photographed a few weeks ago. Then a question popped up in my head: What if I paired coffee with the ways people enjoy it such as listening to music, going on a date, traveling, and drinking while on the job just to name a few? What would emerge from these ideas/prompts? Some came together quickly while others took quite a bit of time to complete. Here are the outcomes of this inquiry.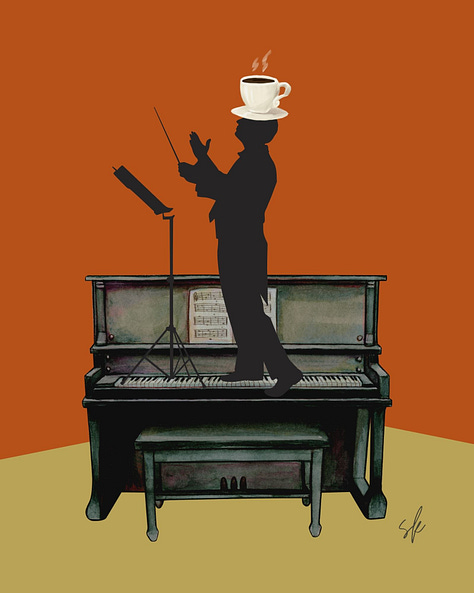 Holidays are around the corner so I thought, why not offer these six collages for sale as affordable art prints to support this newsletter? If you have a spare wall in your home, perhaps you are still thinking of a unique art gift for a friend, a family member, a loved one, or a coffee lover in your life, or you are simply inspired by Sundays with Stella, kindly consider these collage art prints for your holiday shopping. I invite you to have a look!
How do you enjoy your coffee? I'd love to hear your stories! Maybe it'll inspire me to create more collages to add to the series. Share coffee-themed photos, illustrations, or stories in the comments below. Thank you for taking a ride with me on this creative journey!
Thanks for reading Sundays with Stella. Subscribe for free to receive new posts and support my work.